Crawley football fan raises money for Royal Marsden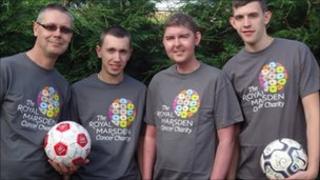 A man from Crawley will attempt to visit 92 football grounds in 92 hours to raise money for a specialist cancer hospital which treated him.
James Aldis was diagnosed with Hodgkin's and non-Hodgkin's lymphoma, which are types of blood cancer, when he was 12.
The 25-year-old has been treated at London's Royal Marsden Hospital and is currently in remission.
He said he wanted "to give something" back to the hospital.
"I've always wanted to raise money for the hospital," he said.
"A lot of people will shave their heads and things like that, but for me that wouldn't have had any real significance. But as a football fan, this will."
James will be joined by his brother Dave, and friends Darren Bulled and Ray Bulled.
Starting at Crawley Town and finishing at Brighton and Hove Albion, they will take it in turns driving across the country to visit each football club in the top four leagues in England.
James, who is a custody officer at Gatwick Airport, said he had two bone marrow transplants while being treated at the Royal Marsden.
"Without them I don't think I would be here," he said.
"They're specialists in what they do - the best in the country - and it shows.
"This helps me to give something back for everything the hospital has done for me."