Vesta Tilley and Clara Butt honoured in Hove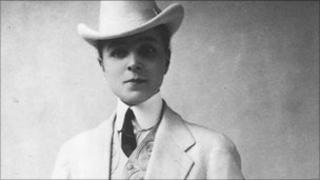 Blue plaques have been unveiled on a Hove seafront mansion block to two women entertainers from the last century.
Music hall artist Vesta Tilley and opera singer Dame Clara Butt both lived in St Aubyns Mansions.
Brighton council said Tilley was one of the most well-known and highly-paid music hall artists of her time.
The Vesta Tilley Society said she was one of the biggest stars this country had ever produced.
Ms Tilley was known for being a male impersonator and her roles included playing soldiers, sailors and policemen during her 50-year career from 1870 to 1920.
Born in Worcester in 1864, she bought a flat in St Aubyns Mansions at the age of 83 and lived there until she moved to London before her death in 1952.
Dame Clara Butt lived in another flat in the mansion block from 1903 to 1906.
During World War I, she sang in many concerts for service charities before she went on to appear before Queen Victoria, King Edward VII and King George V.
She was known for her imposing deep voice and her agile singing technique won her worldwide acclaim, the council said.
The plaques were paid for by the current residents of St Aubyns Mansions and funds from the Brighton and Hove Commemorative Plaques Panel.