Heathland decline in the South Downs to be reversed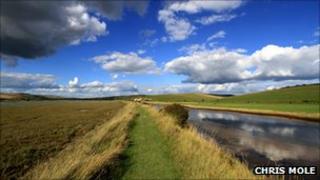 Rare heathland in the South Downs National Park is to come under increased protection following concerns about its decline.
Heathland in the country's newest national park has become increasingly fragmented.
Eleven organisations, including the park authority, the RSPB and the Forestry Commission, have joined forces to reverse the decline.
The partnership will reconnect parts of heathland, which have become separated.
Richard Shaw, chief executive of the park authority, said protection of the heathland was incredibly important.
"When people talk about the landscape of the South Downs National Park, often they think of the chalk grasslands in the east.
"But as anyone from Sussex or Hampshire knows we're incredibly rich in heathland."
'Diversity and richness'
Many rare and threatened species are found on the heathland, including nightjars, sand lizards, adders and sundew, which is a type of carnivorous plant.
Mr Shaw said the heathland on the South Downs, which officially became a national park in April 2011, had been in decline for some time.
"In some places it has been damaged and often fragmented so you don't get the connection for the heathlands, which is important," he said.
"Landscape improvement like this doesn't take place over night, but the objective is for people to see the heathland that is better managed and that the wildlife will increase in its diversity and richness."
The South Downs Heathland Partnership has agreed to provide funding for a project officer to co-ordinate efforts for three years.