Trees burnt to stem Dutch elm disease in Sussex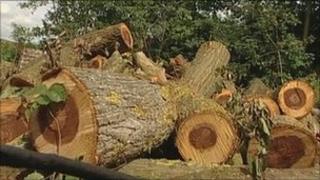 More than 700 trees have been burnt, chopped down or had branches removed to halt the spread of Dutch elm disease in East Sussex, it has been revealed.
East Sussex County Council said more than 125 reports from the public had helped them act swiftly to protect healthy elm trees.
The disease, one of the most serious to affect trees in the world, is caused by a fungus spread by beetles.
The only way to control it is to cut down and burn infected trees.
A spokesman for the county council said: "Thanks to [the public's] reported sightings and the work of our 26 elm protection volunteers, we have had well over 125 reports of trees affected by Dutch elm disease this spring and summer which has allowed us to take swift action to help prevent it spreading.
"We have either felled and burnt, or removed infected limbs from, over 700 diseased trees this year, in order to protect those that are still healthy."
There are about 50,000 mature English elms, thought to be the UK's largest collection of the trees, between Eastbourne and Shoreham.
A Dutch elm disease control area was established in 1973, to help to protect them.