Seven rescued from sinking boat off Sussex coast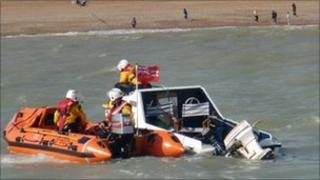 Seven people and a dog were rescued by the RNLI from a sinking boat off the East Sussex coast.
Two lifeboats from Eastbourne were called to Norman's Bay at about 15:00 BST on Sunday where an 18ft (5.5m) angling vessel was taking on water.
A spokesman for Eastbourne RNLI said the group were unable to start the engine in heavy swell and had no safety equipment.
All the people on board were taken ashore by lifeboat.
RNLI crews attempted to tow the boat into shallow water but it sank near the beach.
The craft was later hauled on to the sand. No-one was injured during the incident.