Daytime hawk flights to deter gulls from Sussex tip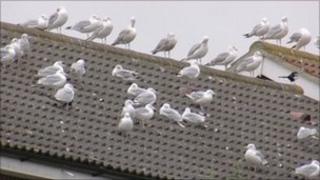 Hawks are to be flown over a Pebsham land fill site during daylight hours in a bid to deter seagulls from the area.
Lyn Markwick, who lives on nearby Magpie Close, said: "There are thousands of gulls at times.
"They come and go as they feed, then they settle on our roofs."
Biffa, who operates the site, said it already flew hawks over the site but was hoping the new measures would stop gulls from visiting the tip.
"By law, we have to put measures in place to control birds at the site," said Andy Coleman from Biffa.
However, residents are complaining about the increasing numbers of seagulls in the area.
Ms Markwick said that the birds started to gather from 08:30 BST onwards and either roost on their homes or fly overhead.