Drusillas zoo black rhino horn stolen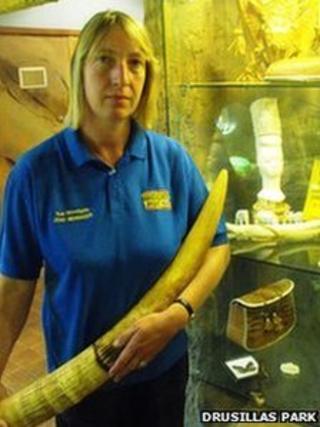 A rare black rhino horn has been stolen from a locked conservation cabinet at a zoo in East Sussex.
Drusillas Park in Alfriston had the artefact on display as part of an education exhibit.
The thieves forced the lock on the glass case during opening hours on Wednesday afternoon.
Staff at the zoo saw two men running away from the scene. Police said they were described as white and in their late teens to early 20s.
One was wearing a baseball cap and sportswear, while the other had a horizontal blue and white striped top with jeans.
They were last seen heading on foot in the direction of Alfriston village.
'Beggars belief'
The rhino horn was taken from the cabinet between 16:15 and 16:30 BST. No other items were stolen.
Zoo manager Sue Woodgate said the theft had left her "extremely upset".
"The horn itself is off-white and triangular shaped, measuring approximately 15cm in diameter," she said.
"Artefacts play an important role in education at Drusillas; they are used to explain to our visitors about the illegal trade in animal products and spread a vital conservation message.
"To have such a precious item stolen for personal gain beggars belief."
The robbery is the latest in a chain of similar attacks on collections and museums throughout Europe, with the demand for rhino horn on the black market high.
Zoo director Laurence Smith said: "It can be no coincidence that during a global spate of attacks our own black rhino horn has also been targeted."
Sussex Police said they were currently looking through CCTV footage, and appealed for anyone with any information to contact them.