Brighton protest over controversial NHS health reforms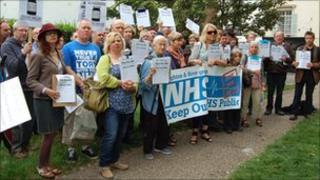 A group of campaigners have gathered in Brighton to protest over the government's planned NHS reforms.
They have been encouraging the public to sign petitions against the changes, which they claim are privatisation of the health service.
However, Health Secretary Andrew Lansley says claims the government aims to privatise the NHS are "ludicrous scaremongering".
The action is part of a nationwide campaign dubbed the NHS Big Weekend.
'Piecemeal privatisation'
The Brighton campaigners have come from a variety of groups, including Unison and Brighton Keep Our NHS Public, in a joint protest against the Heath and Social Care Bill.
Phil Clarke, from Brighton Stop the Cuts Coalition, who also helped to organise the protest, said: "There has been piecemeal privatisation for years, but this represents a sea change in that happening.
"We want to get as many people as possible to sign the petition, which we'll deliver to a Tory MP. We'll also talk to the public and explain what the bill means.
"You only have to read what they [the government] are doing and it's all about privatisation - opening up the multi billion pound NHS for companies to make a profit."
'Choice to patients'
But Health Secretary Andrew Lansley said on Saturday: "Claims that we aim to privatise the NHS amount to nothing more than ludicrous scaremongering.
"We have made it crystal clear, time and again, that we will never, ever, privatise the NHS.
"The reality is that we're giving more power and choice to patients over how they get treated, keeping waiting times low and cutting bureaucracy so more cash gets to the front line."
The bill will received its third reading in the House of Commons on the 6 and 7 September.