Broken lift leaves Brighton woman feeling imprisoned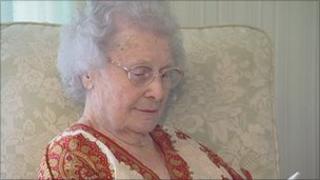 A woman has been left feeling like a prisoner in her own home after being told the lift to her top floor flat will be out of action for seven weeks.
Constance Young. who is in her 80s, said it was nearly impossible for her to climb the 72 steps to her 6th floor home in Brighton.
Ms Young said she was forced to rely on help from friends and neighbours.
Brighton and Hove City Council said the delay to the broken lift was caused by spare parts having to come from abroad.
"We have contacted our vulnerable residents in the block and are in touch with their tenant rep on a regular basis," it said.
"Where residents are having difficulty as a result of the lift breakdown we talk to them about how we ensure they have appropriate support to cope until the lift is fully operational again."
'Totally unacceptable'
Ms Young, who lives in the Donald Hall Road tower block on the Bristol Estate, said she was "lost without the lift".
"It's really affected me, mentally and physically," she said.
The Green party led-council said it was trying to deal with the problem as soon as possible, but the lift operator, Thyssen, had to order the parts from France.
However, local Labour Co-op councillor Craig Turton said a second block nearby had also had a broken lift and the council's response was not good enough.
"What I would like to see is a maintenance contract, which is effective and gets the job done speedily, and a whole refurbishment of these lifts on the estate," he said.
"This isn't the only lift which breaks down. In one of the other blocks we had the police stranded on a 999 response call between floors only three months ago.
"It's totally unacceptable."
Brighton and Hove City Council said it had recently started a programme of lift replacement across the city, and the lift in the Donald Hall Road block would be replaced in 2012-13.
"We review the lift replacement programme annually using cost of repairs, amount of repairs, age and user groups of the lifts to assist in our decision," a statement said.