9/11 anniversary marked with Sussex fund donation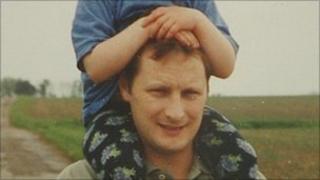 A memorial fund, in the name of an East Sussex man who was killed in 9/11, has made a £30,000 donation to mark the terrorist attacks' 10th anniversary.
Robert Eaton, from Ditchling, was working at the World Trade Center in New York when it was hit by aeroplanes on the 11 September 2001.
His memorial fund has raised more than £70,000 and has donated to projects in Sussex and across the world.
The £30,000 donation will buy a minibus for disabled young people in Sussex.
Mr Eaton, 37, was working at the headquarters of financial services firm, Cantor Fitzgerald, on the 105th floor of the first tower to be hit by a plane.
'Didn't come home'
His sister, Barbara Stephenson, said she had a phone call from her mother on 11 September 2001, who asked her if she had heard from her brother.
"I said 'no', she said 'switch the television on because something's going on in New York'. So I did and at that point I wasn't aware that Robert was in the north tower.
"It was early evening that we realised that, having watched the north tower collapse, he more than likely had been killed.
"We were never ever told that he's dead, he's just missing. He just went to work and he didn't come home."
Constant reminders
Like many others, Mr Eaton's body was never found. At his memorial service his family buried a box of ashes from Ground Zero.
Ms Stephenson said: "I think anyone who has lost a loved one is able to slowly heal and try and put aside what happened to them but with relatives of 9/11 we're constantly being reminded of what happened, it doesn't get any easier."
A lasting memorial to Mr Eaton is the Robert Eaton Memorial Fund.
Mr Eaton was a keen Brighton and Hove Albion fan and the fund in memory of him helps children access sport who may other wise struggle to do so.