Brighton Swimming Club given lottery money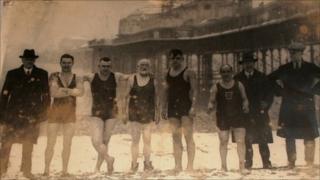 A swimming club which dates back to the 1860s has been awarded nearly £50,000 to help it explore its past following the discovery of a hidden archive.
Members of Brighton Swimming Club still swim in the sea close to the city's pier.
Recently discovered film footage from the 1940s and photographs are among artefacts found in Brighton Museum.
The Heritage Lottery Fund money will help the club, which has more than 350 members, document its history.
'Brilliant idea'
The club's members include sea and pool swimmers, synchronised swimmers and water polo players.
Michael Read, who is a member of the club, said: "I think that the project is an absolutely brilliant idea.
"I do not believe that the city appreciates what a significant part the Brighton Swimming Club has played in its development over the past 150 years.
"Brighton was at the forefront of sea bathing in the 1800s and now in the new millennium open water swimming is one of the fastest growing outdoor activities.
"This project offers the local citizens an opportunity to understand what a significant step sea swimming was and what an important part Brighton Swimming Club has played in Brighton's sporting success."
A new display in the Brighton Fishing Museum, celebrating Brighton's sea front, will also show 150 years of the club's history.
Stuart Mcleod, who is head of the Heritage Lottery Fund in the South East, said there will be opportunities for volunteering with the project.