Plans for new Brighton half-marathon withdrawn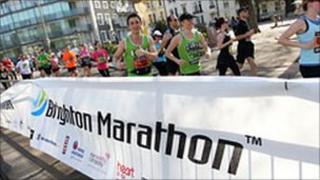 Plans for a second annual half-marathon in Brighton have been withdrawn amid concerns they would damage a long-established fund-raising event.
The Sussex Beacon charity has hosted the run for more than 20 years with the next one set for February.
The Grounded Events Company had asked the council to consider allowing it to stage a half-marathon in October 2012.
Following talks it withdrew its request and said it would look at staging other running fundraisers in the city.
New contract
The Sussex Beacon supports people who have HIV and Aids.
The Grounded Events Company (GEC) said it would consider possibly working with the charity on future events.
Meanwhile, Brighton and Hove City Council has awarded a three-year contract to GEC to continue staging the full 26-mile Brighton Marathon.
GEC has run the event for the past two years, attracting up to 10,000 runners.