Winning designer deckchairs on display in Hastings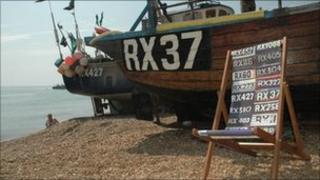 Twenty winning deckchairs in a design competition have gone on show to the public in an East Sussex resort.
More than 1,000 people entered the competition run by the Stade Open Space in Hastings to "design a deckchair".
The winners have now had their artistic creations manufactured onto full size deckchairs which are on display at Sussex Coast College, in Hastings.
Hastings councillor Trevor Webb, one of the judges, said the designs were all of a very high standard.
The exhibition, which runs until 16 September, includes all of the 1,033 designs.
The winning deckchairs will be cared for by Hastings Borough Council and kept by the Stade Open Space for use by the public.