Ex-chorister Robert Eaton remembered in 9/11 service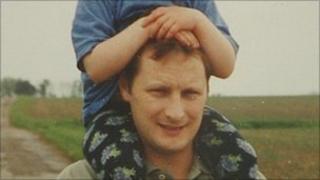 A former St Paul's Cathedral chorister from East Sussex killed in the 9/11 attacks has been remembered, along with other British victims of the tragedy.
Cantor Fitzgerald broker Robert Eaton, 37, from Ditchling, was working at the World Trade Centre in New York when it was hit by a hijacked jet 10 years ago.
In a memorial service at the cathedral, St Paul's treasurer Canon Mark Oakley mentioned Mr Eaton in his sermon.
Mr Eaton's sister, Angela Ridge, also read a prayer.
She said it was for "all families and hearts everywhere which have been broken through acts of violence and terrorism".
£30,000 donation
The St Paul's service was attended by 2,000 people, including other bereaved families, 9/11 survivors, US ambassador to the UK Louis Susman, members of the American community in London and representatives of the British emergency services.
A memorial fund in the name of Mr Eaton has raised more than £70,000 and has donated to projects in Sussex and across the world.
To mark the 10th anniversary of the 9/11 attacks, the Robert Eaton Memorial Fund made a £30,000 donation to buy a minibus for disabled young people in Sussex.
Nearly 3,000 people died on 11 September 2001 in New York, Washington and Pennsylvania, including 67 Britons.