Land row in Hastings forces council to use generators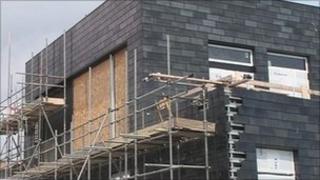 Hastings Borough Council has been forced to spend £20,000 a month on electricity generators to power buildings in a row over land ownership.
The authority claims it has spent the money because UK Power Networks refused to install equipment to supply power on the former Stade Coach Park.
The energy company says the council cannot prove it owns the land and has refused to supply power.
This has forced the council to use electricity generators on the site.
The development of the former coach park includes the Jerwood Gallery, which is due to open next year, a community centre and a cafe.
Jeremy Birch, leader of the council, said discussions had gone on for too long.
'Heavy weather'
"We've been negotiating in good faith with the lawyers representing the UK Power Networks who have made unbelievably heavy weather of what is a complicated land ownership issue," he said.
"Every time we think we've got just to the brink of resolving it another complication is raised by lawyers."
He said he had contacted the chief executive of UK Power Networks directly and was to have a meeting this week with its director of connections.
A spokesman for UK Power Networks said: "We share the borough council's desire for this project to progress smoothly and quickly.
"Unfortunately we share their frustration in having to wait, while landowners resolve the title issues, including a restriction which prevented us from obtaining the necessary legal rights for the electricity substation.
"However we have now been advised that the site restriction has been lifted and subject to the agreement of the council tenant we will be able to finalise the arrangements to proceed with the work."