Ancient Sussex wood to be saved by axing conifer trees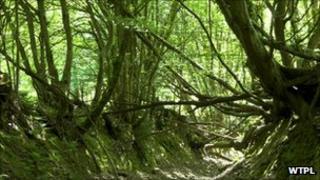 Conifer trees in an ancient Sussex wood will be chopped down to allow native species to grow following a £25,000 grant.
The Woodland Trust has been awarded the money to help return parts of Brede High Woods to ancient woodland.
Due to the shade created by non-native conifer trees, native species have suffered under the canopy.
The work will involve thinning the densely planted conifers to help species such as bird's-nest orchid.
The trust was given the grant by the Veolia Environmental Trust.
The money is in addition to £50,000 it received from the Heritage Lottery Fund, in August, for a community archaeology project in the woods.