Brighton and Hove Albion programmes donated to public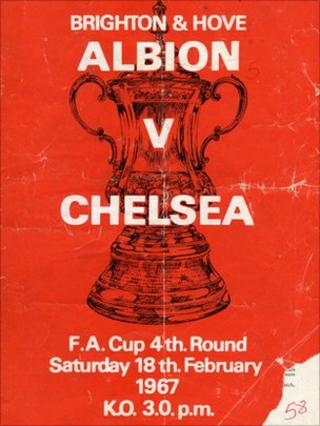 A lifelong fan of Brighton and Hove Albion Football Club has given a set of match programmes, which span 46 years, to the public.
Phil McAndrew, an amateur referee from Shoreham, has donated the programmes to the East Sussex Record Office.
The programmes range from 1963 to 2009, covering some of the Albion's most successful years.
From 1979 to 1983 the club was in the first division and in 1983 it played Manchester United in the FA Cup Final.
Mr McAndrew, who has been an amateur referee since 1974, said: "As a lot of collectors, I have got doubles of a lot of the stuff that I've got.
"I maintain a collection of programmes from the games that I do and the games that I watch.
"In addition to that over recent years I've been trying to build up as complete a collection going back in history as I can."
Almost 1,000 of the 59-year-old's spare copies are now at the East Sussex Record Office.
New stadium
Mr McAndrew, a member of Brighton and Hove Albion's Collectors' and Historians' Society, said other members were adding to his donation to the record office.
"Eventually we are supposed to have a museum at the Amex, where the programmes and all sorts of other stuff relating to the history of the club will be displayed." said Mr McAndrew.
The programmes from 2004 and 2005 detail marches along Brighton seafront demonstrating for a new stadium at Falmer.
The club moved to the Amex stadium in July 2011, 14 years after they left the Goldstone Ground.
Mr McAndrew's childhood home was round the corner from the Goldstone Ground.
He said: "My Dad used to go and when I was very young I couldn't wait to be old enough to go with him to watch the games."
Tony Freebody from East Sussex County Council said: "These programmes are a valuable resource for anyone interested in the history of Brighton and Hove Albion and they chart some very important and turbulent years for the club."
The programmes will be kept at the East Sussex Record Office in Lewes until a planned new record office is built near Falmer, which is expected to open in 2013.