Cowdray Park House antiques in £5m Sussex auction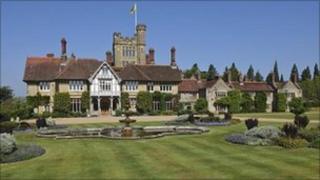 Antiques from a stately home in Sussex that was put on the market for £25m last year are being sold at auction.
The sale at Cowdray Park House is of items from Cowdray Park, home of Lord Cowdray, and from Dunecht, the Scottish home of his brother Charles Pearson.
Cowdray Park House was put up for sale because Lord Cowdray reportedly wanted to downsize but is still on the market.
The three-day auction of antiques and works of art at the house in Midhurst could fetch up to £5m.
Business empire
Andrew Waters, from Christie's, said the first Viscount Cowdray, Weetman Pearson, and his wife were among the most prolific and discerning British collectors of the early 20th Century.
The couple and their son, Weetman Harold Miller Pearson, the second Viscount Cowdray, bought many of the antiques and artworks which are being sold.
The family started out with a small company in Bradford, which became one of the most successful business empires of the 20th Century and one of the largest construction companies in the world.
The 1st Viscount Cowdray won a contract to drain Mexico City in 1889, and went on to develop vast oil fields in Mexico, accruing extraordinary wealth.
Highlights of the sale include an early 17th Century portrait of a lady who was identified as Queen Elizabeth I but is more probably Catherine Carey, Countess of Nottingham. The work could fetch between £250,000 to £350,000.
Nine works of art from Cowdray Park were sold for nearly £11m in July. The sale included Thomas Gainsborough's full-length portrait of Mrs William Villebois, which sold for £6,537,250.
Christie's, which is holding the auction, said the house would also be open to the public for the first time while the auction is held.