Rolls-Royce to expand West Sussex base as sales rocket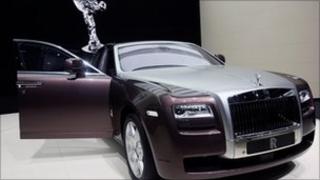 Luxury carmaker Rolls-Royce is making light of the economic climate by expanding its Sussex production base due to record demand for its vehicles.
It is investing £10m on enlarging its assembly hall and surface-finish centre at its headquarters in Goodwood.
Most of the expansion will provide extra space for its bespoke team, which has doubled in the face of growing demand for vehicle personalisation.
Customisation could double the cost of a £200,000 Ghost or £300,000 Phantom.
Chief executive Torsten Muller-Otvos said: "We continue to see increased demand from customers all over the world and the new facilities will allow us to increase the capacity for our hand-built, highly personalised motor cars."
Last year's record vehicle sales of 2,711 reflects the trend of continuing worldwide growth amid the worst global recession for decades.
Unique
Corporate communications manager Andrew Ball explained: "In a difficult world, it is wonderful to see that we have continued growth in our sales, and more and more customers are coming to us for very personal cars.
"The United States is still very much our number one market, but we are seeing huge growth in Asia-Pacific and China, with customers wanting something very personal, something they can commission themselves - almost a signature."
He said for wealthy customers the idea of owning a car that is already a rare sight on the road - and then customising it to make it unique - was a big attraction.
And money - for those people at least - is evidently no object.
Personalisation can mean anything from a specific colour or having a family crest embroidered in the vehicle to a reconfigured interior, or perhaps a picnic set built into the boot.
In some cases, that could double the final on-the-road cost of the car.
Rolls-Royce says the expansion should start later this year and be complete by late 2012.