Cowdray Park House antiques auction fetches £7.9m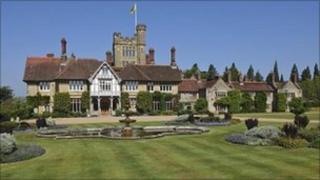 A three-day sale of antiques and artworks at a stately home in Sussex has fetched £7.9m.
The auction at Cowdray Park House in Midhurst saw 1,122 lots sold to bidders from 34 countries.
A 17th Century portrait of a woman identified as Queen Elizabeth I, but more probably Catherine Carey, Countess of Nottingham, sold for £325,250.
Many of the items had been bought in the early 20th Century by the first Viscount Cowdray, Weetman Pearson.
Andrew Waters, head of private collection and country house sales at Christie's, said: "The Pearson name and collecting legacy drew interest from all around the world."
He said there was a high level of bidding from clients on the internet and telephone and a "healthy crowd" of collectors.