Lewes MP Norman Baker hopes for rail fare decrease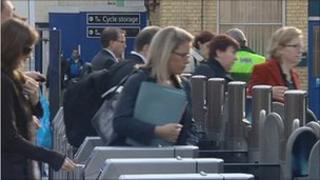 Transport Minister and Sussex MP Norman Baker has signalled that the cost of rail travel could come down if the economy improves.
Mr Baker, who is the Liberal Democrat MP for Lewes, was speaking on BBC South East's Politics Show on Sunday.
Rail commuters are facing ticket rises of about 8% next year, following the release of July's inflation figures.
A group representing passengers in the South East said it was unlikely fare prices would drop.
Mr Baker said: "I personally find it very regrettable that rail fares are going up.
"I'm very clear that as soon as the public finances allow it we should try to bring them down."
The Retail Price Index (RPI) - a measure of inflation published monthly by the Office for National Statistics which measures changes in the cost of goods and services - determines the rise in regulated fares in England.
For the past few years the formula for fare increases has generally been RPI inflation plus 1%, but for the next three years it is RPI plus 3%.
The government argues that the price rises are needed to fund improvements to services and reduce the cost to the taxpayer of running the rail network.
Lionel Shields, from the group Tonbridge Line Commuters, said: "I think it's unlikely that train fares will ever be reduced.
"Several people have said to us that mortgage payments are actually dwarfed by the amount they pay in rail fares and a lot of them are seriously wondering whether they can continue to travel because of the fare levels."