Man dies in A259 bridge crash at Littlehampton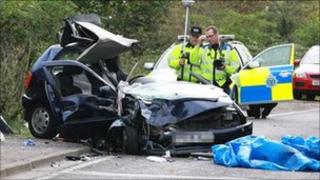 A 55-year-old man has died in a crash involving a car and a lorry on a bridge over the River Arun in Sussex.
Sussex Police said emergency teams were called to the scene on the A259 at Littlehampton at about 14:15 BST.
The man who died was cut free by firefighters but confirmed dead at the scene. Two other men were taken to hospital with injuries.
A police spokesman said the bridge was blocked by the crash and remained closed at rush hour.
Appealing for witnesses, officers said the crash involved a Volkswagen Polo and a lorry.
The man who died has not yet been named.