NHS in Sussex refuses muscular dystrophy man 'life' machine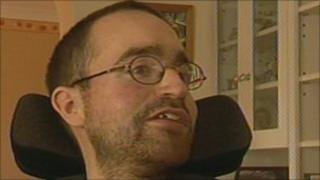 A man with an illness that puts him in constant danger of developing serious respiratory problems has been refused a machine that could save his life.
Jon Hastie, of Worthing, has a disease that prevents him coughing, putting him at risk of catching pneumonia.
The Muscular Dystrophy Campaign says a £4,000 machine that helps him cough could save on hospital bills and avoid the risk of life-threatening illness.
NHS West Sussex said there was little evidence that it would be effective.
The campaign says it will support Mr Hastie's appeal against the decision, arguing that the medical staff who supported his case have more expertise than those on the panel that rejected his funding application.
'Great risk'
Mr Hastie, 30, who suffers from Duchenne muscular dystrophy, says the cough-assist machine could save his life, and save the NHS money.
He said: "I need this machine because I am currently unable to cough because my breathing muscles have deteriorated so much.
"The machine simulates a cough [so] I will be able to clear chest infections. If I didn't have that, I would end up in hospital, probably developing pneumonia, going into intensive care at great risk to my life."
Nic Bungay, of the Muscular Dystrophy Campaign, said: "A one-day stay in intensive care could cost anything up to £2,700, so if Jon does get an infection, it is going to cost the NHS a whole lot more money in the long run.
"That is why we believe this decision... is completely unacceptable, and we shall be backing Jon in his fight to get this essential equipment."
NHS West Sussex said it had a "robust" process for assessing treatment funding, taking into account clinical evidence as well as value for money.
The panel, which included hospital consultants and GPs, said the decision to reject the request was made "on the basis that there is very little evidence of effectiveness".