Uckfield tattoo studio in power cut threat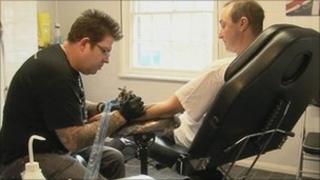 An electricity firm has apologised for threatening to cut supply to a tattoo artist who refused to pay after he was overcharged by hundreds of pounds.
Kevin Bradford was paying £40 a month for power in his East Sussex studio until it was fitted with a smart meter. The next two months' bill was £1,422.
"They were going to send the police and locksmiths to turn up at my premises and gain entry," he said.
British Gas said it would issue a new bill and had cancelled disconnection.
Mr Bradford, who has been running his tattoo studio in Church Street, Uckfield, for three years, had the smart meter fitted in the spring.
The meters, which remotely record gas and electricity use, are to be fitted to every home in Britain by the end of 2020.
It is hoped they will help cut energy use as well as put an end to estimated bills.
"British Gas said I had used over 10,000 units in under two months," said Mr Bradford.
"But my daily usage is three to five units per day on average so it is impossible to use that amount of electricity in that timescale."
Final reading
When Mr Bradford queried the bill he was told there was no mistake and that all previous bills had been under-estimated.
Later the company admitted a mistake was made in the final reading from the old meter.
But then Mr Bradford received a letter stating that if he did not pay £1,422 by 22 September the studio would be disconnected.
"It is hard enough running a small business without all this added pressure from British Gas," he said.
Now the company has apologised for the problems Mr Bradford faced in resolving the issue.
"We are investigating what went wrong in this case as a matter of urgency and will be working with Mr Bradford to achieve a satisfactory outcome," it said in a statement.