Flood risk in Lewes reduced by £15,000 culvert work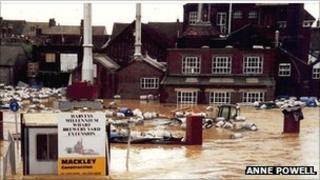 An area of Sussex that is at high risk from flooding is to be protected by £15,000 improvements.
More than 50 homes close to the Winterbourne stream that runs through Grange Gardens, Lewes, are vulnerable to flooding in times of heavy rain.
The Environment Agency has begun replacing old grills over the drainage channels in the gardens with more efficient, more accessible ones.
It says it will reduce the risk of flooding from overflowing culverts.
The East Sussex town is vulnerable to major flooding from the River Ouse, which runs through it.
Major flood risk
In 2000 hundreds of homes were evacuated after the Ouse burst its banks, causing some of the town's worst flooding for decades.
Since then, flood defence improvements have been carried out in parts of the town, but it remains a major flood-risk area.
An Environment Agency spokesman said: "Climate change will increase the likelihood of flooding in the future, but we can prepare for it. Improvements to our flood grills and structures are vital to ensure we can appropriately deal with periods of heavy rainfall when they occur."
But he said people needed to be prepared for floods and have their own action plan for emergencies.