Illegal immigrant fake marriage fixer not deported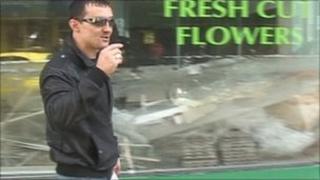 An illegal immigrant, jailed for his involvement in a sham marriage scam, remains at liberty despite a judge recommending his deportation.
Vladimir Buchak, 34, received a four-year prison sentence in 2010 for helping to organise hundreds of fake weddings in St Leonards, East Sussex.
He was due to be deported once he left prison on 1 July but was released on bail and is now living in St Leonards.
The Conservative MP for Hastings and Rye Amber Rudd said she was "outraged".
BBC South East Today filmed the Ukrainian national, who had lived illegally in the UK for several years before being jailed, walking round the town in September.
The UK Border Agency said it had opposed Buchak's bail and was still considering his deportation.
Ms Rudd added: "It seems extraordinary that this man hasn't been deported and to think of him now swanning around in St Leonards, it's just horrific, we must do something about it.
"I'm going to make sure the UK Border Agency realises how strong we feel about this."
Ms Rudd added: "It is absolutely absurd. The man was sentenced to four years, as it is he only did two years, but you'd reasonably think that at the end of that two years he would be deported as he should have been.
"We don't want him here and we certainly don't want him in St Leonards.
"Part of the problem with this is there seems to be a mystery about why he was released but I will be uncovering that mystery and doing my best to put it right," she added.
During Buchak's trial, Lewes Crown Court was told he paid eastern Europeans up to £3,000 each to marry Africans, mainly from Nigeria.
His co-defendants, Reverend Alex Brown and solicitor and pastor Michael Adelasoye, 50, were also jailed for four years in September 2010.
The jury was told Brown conducted 360 sham marriages during a four-year period at the church to bypass immigration law.
After Buchak left prison he was sent to an immigration removal centre but instead of being deported was released on bail.
A UK Border Agency spokesman said: "Our priority is to protect the public and we are clear that foreign criminals should be removed from the UK at the earliest possible opportunity.
"Last year we deported 5,342 foreign national prisoners."
'Alternative means'
He added: "Vladimir Buchak was released from prison on 1 July 2011 and immediately placed into immigration detention.
"On 14 July 2011 he was released by the courts on bail with reporting restrictions. The UK Border Agency opposed this bail."
A spokesman for the Judiciary of England and Wales said: "An immigration judge will grant bail where there is no sufficiently good reason to detain a person and lesser measures can provide adequate alternative means of control.
"An immigration judge will focus in particular on the following three criteria when deciding whether to grant immigration bail - the reason or reasons why the person has been detained, the length of the detention to date and its likely future duration, [and] the likelihood of the person complying with conditions of bail."