Town plan shapes Horsham's future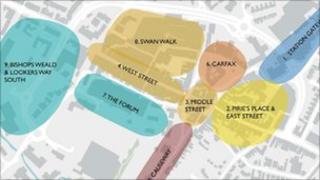 Horsham councillors are considering proposals for the town's future before consulting the public.
They will discuss the new town plan, which the council says aims to balance economic development with the preservation of Horsham's past.
The proposals, which are based on a report by independent consultants, includes plans for new shopping areas as well as transport improvements.
If approved by cabinet members, it will go to the full council on 19 October.
Shop-lined boulevard
Some local organisations were involved in discussions during the creation of the consultants' report, and the council says similar workshops are likely to take place during the the public consultation on the town plan, scheduled to begin at the end of October.
A spokesman said: "The report refers to the historic development of Horsham, the character of the town, its design, the current commercial property market, transport and accessibility.
"It sets out a suggested vision for the town and a strategy for how this could be achieved."
Proposals include a shop-lined boulevard, featuring wider pavements and bus and cycle lanes, improved vehicle and pedestrian links to the west of the town centre and redevelopment of railway land in the Hurst Road area.