Impact of cuts to West Sussex adult care to be revealed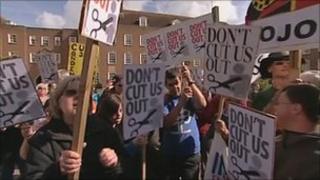 The impact of controversial changes to adult social care in West Sussex is being debated by councillors.
Budget cuts agreed in March restricted the range of adults eligible for care, prompting an unsuccessful campaign to force a council rethink.
The county council's adult services committee is considering the effect of the cuts, which took effect on 1 April.
Social care has been withdrawn for adults with moderate needs to focus on those perceived to have greater needs.
The county council says about £750,000 of the proposed savings over the next two years will be reinvested in the voluntary sector and schemes such as health and wellbeing hubs, which provide information about alternative community services.
Bishops add voice
Of its proposed £79m savings over the next three years, £31m is intended to come from adult social services, which represents about 17% of the budget.
Campaigners from all over West Sussex lobbied County Hall to persuade councillors to change their minds, warning that more than 4,000 people in the county would be affected.
Three West Sussex bishops backed the campaign, urging the council to delay the cuts while the policy was reviewed.
Among the evidence being considered is the impact so far on individuals and an assessment of the savings achieved.