Fire at West Sussex County Times offices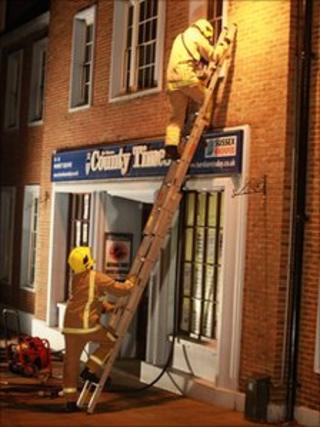 The headquarters of a newspaper in West Sussex has been damaged by a fire.
Firefighters were called to the offices of the West Sussex County Times, in Market Square, Horsham, just before 19:00 BST on Thursday by staff.
Editor-in-chief Gary Shipton said fire doors combined with the "swift action" of the emergency services had contained the damage.
The fire is thought to have been caused by a faulty light fitting. No-one was injured.
A number of rooms were damaged, including the main entrance and stairs, main editorial corridor, and photographic department.
'Deadly fumes'
Fire inspection officer Tim Eady, of West Sussex Fire and Rescue, said: "I am confident at this stage that it was an electrical fire, started in the ceiling light fitting.
"The fire debris from the light fitting has fallen down onto the floor and onto the chair below, igniting the chair.
"This then spread to the computer on the desk next to it.
"It was a very localised fire, and a very quick fire, measuring two to three square metres.
"There is nothing left of the chair now, and the fact that it's stuck to the floor suggests that this was the hottest point.
"Most of the damage throughout the building was caused by smoke."
'Business as normal'
He added: "Most people seem to dismiss smoke damage and think it's less serious. In this case it was toxic because of the plastic, which meant it would have been liberating cyanide and other deadly fumes which are incredibly harmful."
Two journalists were in the production centre when the fire started.
Mr Shipton said the fire would not prevent the production of the paper and its sister titles.
"It's business as normal. Our reporting and advertising teams will work from our other neighbouring offices until the damage is repaired," he said.
The County Times was founded on the site about 150 years ago.