Brighton and Hove City Council buys £1m gritter fleet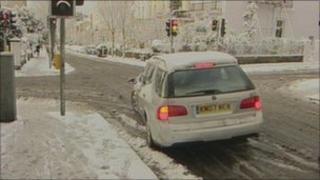 About £1m has been spent on seven gritters in a bid to speed up clearing snow and ice in Brighton and Hove.
A fleet of seven old gritters, out of which three were 4x4, has been "retired", the council said.
The new vehicles are all 4x4 and include one smaller vehicle which will allow access to narrower lanes.
It follows two severe winters in the UK. A Brighton Council review said the local authority received nearly 4,000 complaints about gritting in 2009/10.
The report said the public mood was "angry, vitriolic and even venomous".
'Lessons learnt'
Gillian Martson, head of city infrastructure at the council, said the new vehicles held 18 tonnes of salt compared with the old ones which held 12, and would be out on the road working for longer and more quickly.
She said the old vehicles which were not 4x4 had difficulty getting up narrow and steep hills.
Councillor Pete West, environment cabinet spokesman, said the council was not able to get the gritters in time for last winter, but had not forgotten residents' anger from two years ago.
He said: "An awful lot of lessons have been learnt. Council officers worked really really hard to work on how we address these situations.
"The machines were very old that we had and had become very unreliable and kept breaking down.
"That wasn't helping at all. So if it snows again this winter, I think we're in a much better place."