Seaford hopes for thousands at bonfire revival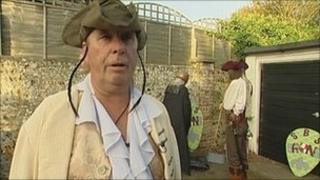 An East Sussex town is preparing for a revival of its bonfire tradition after a gap of more than 30 years.
Seaford Bonfire Society has been fundraising and preparing costumes, banners and 1,200 torches since January for its celebration on 22 October.
"We are hoping for about 3,500 people to come along and support us," said spokesman Kevin Hardy.
Seaford last held a bonfire celebration in 1977, though the tradition is known to date back hundreds of years.
'Family society'
The revived bonfire society has about 130 members, who say they are delighted with the response from the town.
"It appeals to everybody - young, old, families - the lot," said member Adam Briggs.
"We are trying to be a family society and get as many people out as possible to enjoy the event."
East Sussex has about 30 bonfire societies, with about 40,000 people visiting Lewes, the focal point of activity on 5 November.
The celebrations mark both Guy Fawkes Night and the burning of 17 Protestant martyrs in Lewes High Street between 1555 and 1557, during the reign of Mary Tudor.
Seaford claims a strong connection with the Gunpowder Plot in 1605 through Lord Monteagle, who is said to have uncovered the conspiracy and received land in Seaford as part of his reward.