Brighton Pride director steps down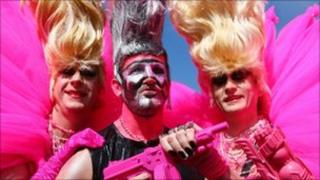 The director of Brighton's Pride Festival is to step down after leading the organisation through a financial crisis and changes to its format.
Judith Manson said she would leave next month to pursue new challenges after the "best ever" Pride in August.
The 2011 Pride festival culminated in an event in Preston Park which was fenced off and ticketed for the first time in its 19-year history.
The 2010 event was criticised for overcrowding and rubbish left behind.
The organisation was forced to make staff cuts in 2009 after it faced a potential £50,000 deficit.
"It has been a privilege to be involved with Pride in Brighton & Hove over the last seven years," said Ms Manson.
"I have met and worked with some amazing people along the way and couldn't be more thrilled to leave on such a high after receiving incredible feedback for this year's Pride events.
"Brighton and Hove is an amazing city and I think we did it proud this year."
Pride Chair Russell Allen said: "I am grateful for her support and determination in this last year as we worked to change the format of the Park event.
"The positive feedback received is evidence of her achievements."
Pride said it would consider its strategy for 2012 and beyond during the quieter winter period.