Combe Haven walkers protest at Hastings and Bexhill link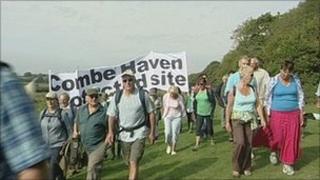 Campaigners walked through countryside in East Sussex to protest at plans to build a link road which will carry 30,000 vehicles a day.
The road between Hastings and Bexhill was granted planning permission in 2009 but funding was put on hold by the coalition government last year.
The road will link the A259 and B2092, crossing Combe Haven Valley near a Site of Special Scientific Interest.
East Sussex County Council (ESCC) said the road was an economic priority.
Funding was initially costed at £89m but ESCC submitted a fresh bid for £56m of government money earlier this month, with the hope that construction would begin in 2013.
Dozens of protesters from Bexhill, Hastings and Crowhurst walked through Combe Haven on Saturday.
Nick Bingham, chairman of Hastings Alliance, said local people did not want the unnecessary road scheme, which would a "very special place".
But Councillor Carl Maynard said the council believed it was vital to the economic regeneration of the area.
"It will open up land for business and housing developments and improve transport links between the two towns," he said.
"We've worked hard to find ways to reduce the cost of the road by several million pounds.
"I recognise there are some who have concerns, but would point to the important measures that will be put in place to ensure this road is, as far as possible, in keeping with the local landscape."