Overgrown allotment warnings issued by Brighton council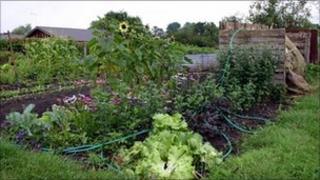 More than 1,000 warning letters have been sent out about overgrown allotments in Brighton and Hove after the council tightened up inspections.
The city council said notices had been handed out to people who had let their allotments become overgrown or had not grown enough produce.
Councillor Peter West said there was a huge demand for allotments and it was important people actively used them.
The city has 2,855 plots. Some people have had two or three notices.
Three-stage process
Peter Ferris, site representative at the Weald Allotments in Hove, said owners were supposed to plant 75% of their land.
He said the three warning stages were a weed notice, a cultivation notice and finally a termination notice if no improvements were made after the first two requests.
At all three stages, the allotment site representative carries out an inspection and the council also visits the plot.
Mr West, cabinet environment spokesman, said: "We've got over 2,800 [allotments', but there are 2,000 on the waiting list, so it's very important that anyone who has an allotment is actively using it."
He added: "We've tightened up our inspection procedure. The council is more active in making sure the allotments are being grown on properly."
And he said the three-stage warning system gave allotment owners a chance to improve along with a second and third chance of getting it right.
Adding that there was training available, Mr West said: "Some people do struggle. There is help at hand."
"Some people take on an allotment and bite off more than they can chew.
"People don't necessarily have the time they think they perhaps have. They want to grow their own food they don't realise how long it takes."