Light aircraft crashes at Shoreham Airport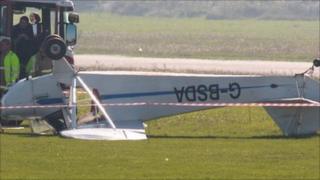 A light aircraft has crashed on landing at Shoreham Airport in West Sussex.
Sussex Police said there had been no fire and the 75-year-old experienced pilot from Cranleigh, in Surrey, had walked away with minor cuts.
The two-seater plane, a Taylorcraft, somersaulted on landing, ending up on its roof, at the end of the runway.
Fire crews turned the aircraft upright following the incident, which happened just before 15:00 BST. There were no passengers on board the plane.