Brighton soldier Lewis Denyer honoured for bravery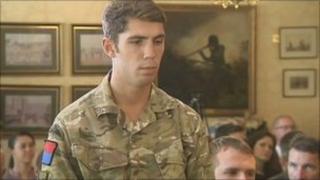 A soldier from Brighton who helped his patrol fight off a Taliban ambush in Afghanistan while treating a badly hurt colleague has been honoured.
Acting Bombardier Lewis Denyer, 23, was a fire support team assistant with the Royal Regiment of Artillery when his patrol came under fire.
He gave life-saving first aid to a soldier who was shot in the neck then directed mortar fire on the Taliban.
He received a Mention in Dispatches in recognition of his gallantry.
The soldier was among 140 military personal named in the latest Operational Honours list.
His citation notes that it was not uncommon for Acting Bombardier Denyer, who previously served in Afghanistan in 2008, to put himself in danger to observe enemy positions.
It adds he acted well beyond his age and rank.
"The soldier who was shot was five to 10m from me, so I was first to get to him," said Acting Bombardier Denyer.
"It was a pretty bad wound and he was bleeding heavily.
"He tried to get up but I started treating him until the medic got there, which was pretty quick.
"As soon as he took over, I resumed my role."