Sussex Police warning over Rother suspected poaching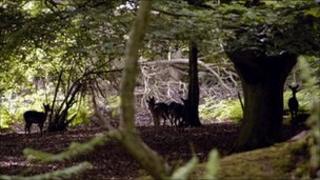 Suspected poaching in Sussex woodland has led to police warnings to people not to buy poached game.
Sussex Police said it had received reports of lights and loud noises coming from woods in rural areas of Rother and had stepped up patrols.
PCSO Daryl Holter said there was a real risk to public health if meat was introduced illegally into the system.
He also said shooting deer at night with high-powered weapons posed an "obvious risk to public safety".
Rother's wildlife crime officer added that there were also concerns for animals that were not killed in a clinical and professional manner.
He said game dealers and owners of restaurants, hotels and pubs had been advised to check they were not buying illegally-killed game.
He said dealers in game should show legal documentation for the sale of meat.
Anyone with information on suspected poaching should contact the force.