Brighton and Hove Gay Men's Chorus in donation pledge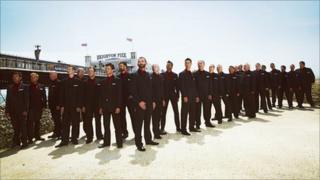 A gay men's choir which signed a £1m record deal will give 10% of proceeds towards the upkeep of its church building rehearsal space in Hove.
Earlier this year, the Brighton and Hove Gay Men's Chorus signed to Universal Records, home to music acts like U2, Paul Weller and Lady Gaga.
The chorus formed six years ago to provide a community for gay men in Brighton to share experiences.
Members said they wanted to help with the upkeep of their "spiritual home".
'£12,000 raised so far'
The choir performs and rehearses at St Andrew's Church in Waterloo Street, but the building is falling into disrepair.
According to the church's website, the building is no longer used as a church but continues to serve the community as a venue for musical concerts and other events.
Chorus chairman John Hamilton said: "Not only does the chorus help raise funds for the church, but many members also make a valuable contribution to the running of the church.
"St Andrew's is like a member of our family that we all care for dearly."
More than £12,000 has been raised in the past six years through the chorus donating £1 from every ticket sold to the once-ailing church.
Choir member Adam Tubero, who is also a caretaker at the church, said: "The chorus has brought life back to the church."
The group's debut album is due to be released on 5 December.
It will feature covers and alternative versions of songs by Radiohead, David Bowie, Neil Young, Nine Inch Nails and Ian McCulloch.
The deal is thought to be the first major label contract for a gay men's choir.