Cost-cutting could see Uckfield street lamps turned off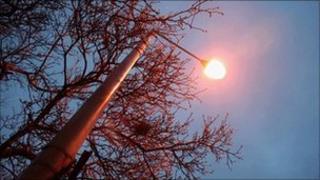 Cost-cutting moves to turn off some street lights after midnight are being considered for an East Sussex town and could be rolled out across the county.
Residents were being given information about the Uckfield scheme at the town's Civic Centre on Saturday.
East Sussex County Council said the scheme had already been piloted in Heathfield and could take place in other towns next year.
The local authority wants to cut its £1.5m street lighting electricity bill.
'No crime increase'
It said comments on the Uckfield scheme would be taken into account before final decisions were made.
Councillor Carl Maynard, cabinet member for economy, transport and environment, said: "The pilot scheme in Heathfield seems to have been well-received by residents and businesses in the area.
"Local police say there has been no increase in incidents reported to them."
But he said each town or village had different needs and the public consultation was important.
'Help the environment'
Proposals for Uckfield are to turn off some street lights after midnight, reduce the number of lights in some streets, and dim others between midnight and the early hours.
In Heathfield, the council switched off most residential street lighting between midnight and 05:30, and dimmed lights on main traffic routes.
The council said the move would cut carbon emissions and protect the environment as well as save money.
Information on the Uckfield scheme is available on the council consultation website and at the town's library and council offices. Comments can be made until 10 October.