Large grass roof for Sussex sewage plant in Peacehaven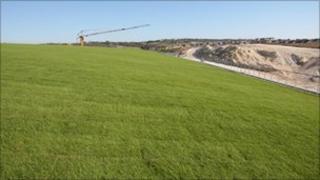 One of the largest grass roofs of its kind in the UK has been completed on a new sewage plant, in a bid to help it blend in with its surroundings.
The roof at Peacehaven, Sussex, is about two and half times the size of Wembley's football pitch.
It has been laid in an attempt to allay concerns over the plant's impact on the landscape.
The £300m plant is due for completion in March 2013 and will handle sewage from Brighton and Hove.
Once completed, the plant, run by Southern Water, will treat 95 million litres of waste water a day.
In May 2009, campaign group Peacehaven Residents Opposing Urban Development, gave up its legal battle to halt construction.