Pickles asked to end second home council tax discount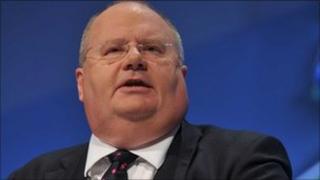 Communities Secretary Eric Pickles has been urged to allow councils to charge the full amount of council tax to second home owners.
Jason Kitcat, cabinet member for finance at Brighton and Hove City Council, has written to Mr Pickles, asking him to give councils the power to opt-out of the second home discount.
The Green Party councillor claims it costs the council £177,000 a year.
A spokesman for Mr Pickles' department said the discount was under review.
Councils are currently forced to implement a discount of between 10% and 50%.
Mr Kitcat said they should have the freedom to decide local taxation themselves.
'Tackle inequality'
"While we have no choice but to charge council tax, I believe Brighton and Hove should be given the discretion to stop offering discounts to second home owners," he said.
"The £177,000 this tax discount cost the council this year would have helped tackle inequality and support much needed services for the young, elderly and vulnerable."
A spokesman for the Department for Communities and Local Government said: "Second homes currently receive a discount of between 10% and 50% at the discretion of the local authority, reflecting the fact they make less use of local services than a primary household might.
"We keep such issues under review."