Campaigners claim Saltdean Lido 'not open enough'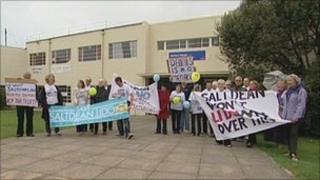 Campaigners concerned for a historic Sussex swimming pool's future want the local council to take it over.
The Save Saltdean Lido Campaign demonstrated outside the lido, expressing their growing concerns over how it is run.
The campaign says its leaseholder has not kept to the opening hours agreed with the owner, Brighton and Hove City Council.
The leaseholder says the pool opened every day it was required to.
The campaign claims that the 1930s lido was not open to the public every day from 31 May to 1 September, as required by the lease.
Rebecca Crook, from the campaign, said during that 94-day period this year the lido was only open for 43 days.
Ms Crook added: "We recorded a log of when the lido was open. One person phoned the lido and two people visited it, one in the morning and one in the evening, to see if it was open."
Dennis Audley, who has leased Saltdean Lido from the council since 1997, said: "We have opened every day. There are certain days when we've closed earlier than the latest possible time due to inclement weather."
Mr Audley has said he wants to turn the lido into an all-year leisure facility for the community and build flats and new facilities including a library.
Campaigners have called for the lido to be restored.
Brighton and Hove City Council said it was currently seeking to ensure the terms of the lido lease were complied with and the building was sound.