Babes in Wood murders: Vigil to mark 25th anniversary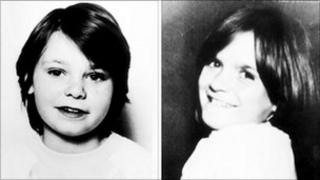 Relatives of two girls strangled in Brighton in 1986 have held a vigil to mark 25 years since they were killed.
The deaths of Nicola Fellows and Karen Hadaway in Wild Park became known as the Babes in the Woods murders.
The bodies of Nicola and Karen, both aged nine and from Moulsecoomb, were found on 10 October, a day after the girls had disappeared.
Family members, including the girls' mothers, gathered in Wild Park on Sunday and released doves and balloons.
Russell Bishop, a labourer who knew both children and their families and who helped in the search, was acquitted of the murders in 1987.
After a review of the case, Sussex Police said in 2006 that there was not enough new evidence to prosecute any possible suspects.
A memorial bench sits alongside a plaque and two trees close to the site in Wild Park were the girls' bodies were discovered.