'Missing swimmer' sparks major search in Brighton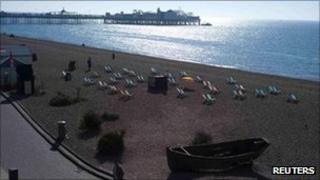 A major land, air and sea search was mounted after a swimmer was reported missing off the coast of Brighton.
Police officers, the coastguard and RNLI spent about 90 minutes looking for the person using two helicopters and a lifeboat on Sunday.
The swimmer, who is believed to have left a bag on the beach, was reported missing at about 10:00 BST.
Solent coastguard said "nothing untoward was found" and the search was called off.
Brighton and Hove City Council said a swimmer reported seeing another person in a white swimming cap entering the water but not returning after 60 minutes.
Officials from the seafront office found a bag and towel during a search of the beach.
Sussex Police appealed for anyone with information about the swimmer or the bag to contact the force.