South East Water installs eel pass on River Cuckmere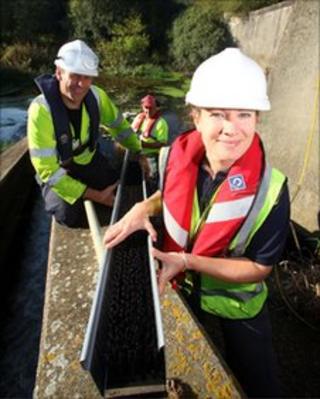 A water company has fitted an eel pass to one of its weirs to help eels migrate up a river in East Sussex.
South East Water has put in the pass to allow juvenile eels to get over the large concrete structure on the River Cuckmere at Arlington.
The special pass is a metal gutter filled with tightly packed bristles.
It is designed to help the young eels, known as elvers, to cling on and migrate more easily from the sea and up into the River Cuckmere.
'Reversing the decline'
Emma Goddard, environmental manager at South East Water, said: "Eels can have difficulty overcoming natural or man-made obstacles in rivers.
"One such obstacle is our weir which helps control the flow of river water into Arlington Reservoir, where it is stored ready to be used."
According to the Environment Agency, eels are the fastest declining vertebrate.
Numbers have fallen by 70% in England and Wales and eels are listed as a priority species in the UK's national Biodiversity Action Plan.
South East Water worked with the Environment Agency to install the special pass.
"By fitting this eel pass, we will enable the elvers to readily pass the weir structure during all months of the year, helping them on their migration, which will go some way to reversing the decline in local eel stocks," said Ms Goddard.