Gatwick Airport's £73m north terminal extension opened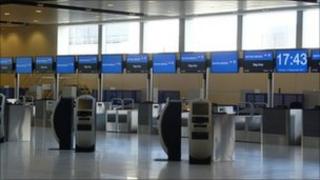 A £73m extension to Gatwick Airport's north terminal has been officially opened.
The 8,300 sq m (27,231 sq ft) building will process all people using British Airways flights from the West Sussex airport.
Passengers will have to use self-service kiosks to check-in and print boarding passes and bag tags.
British Airways said staff would be on hand to help any people that needed help or additional support.
The work is part of a £1.2bn investment into the airport.
British Airways managing director for Gatwick, Silla Maizey, said: "We have a fantastic new home, which is spacious, bright and airy and which has technology that gives passengers the quickest and easiest journey possible through the airport.
"We know that many of our customers appreciate the opportunity to do more for themselves, like self service check-in, choosing seats and printing their own boarding cards - and for the first time British Airways passengers will be able to print their own bag tags."
On Tuesday a £45m security area that aims to process nearly 5,000 people an hour was unveiled at the south terminal.
Gatwick's chief executive Stewart Wingate said: "Our £1.2bn investment programme to transform the airport experience for passengers, reducing queues and delivering a smoother check-in experience with more self-service options has been one of our key priorities."