Brighton council given permission to evict travellers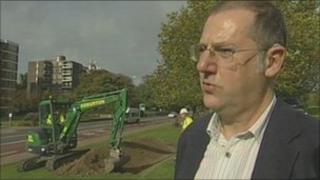 Brighton and Hove City Council has moved a step closer to removing a group of travellers from a beauty spot in Sussex.
The council has been granted a possession order by Brighton County Court for Acres Field, where a group of travellers has settled.
The authority would not give an exact date for when it will evict them.
Pete West, cabinet member for environment, said the council had a "firm but fair approach" to travellers.
'Permanent site'
He said: "We tolerated this encampment for a short-term period over the summer to prevent the group creating an encampment in a more sensitive location elsewhere in the city.
"This is part of a more pragmatic way of managing the normal summer increase in travellers and does not mean that every encampment will be tolerated."
The Acres Field site is on Devils Dyke Road, above Brighton Golf Course.
Recently Mr West ordered the digging of a 330ft (100m) long trench in Withdean park, Brighton, to prevent travellers gaining access after it was used several times over the summer.
"We aim to identify a permanent site by the end of the year which will go a long way towards easing some of the tensions the lack of sites for travellers visiting the city can create," he said.
A council spokesman added that the date of eviction would be affected by trying to minimise its impact on the children who live on the Acres Field site.