Sussex concerns over police helicopter response times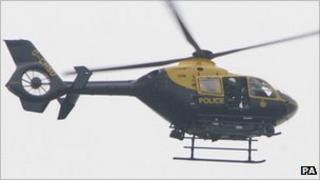 People living in East Sussex will have to wait more than 20 minutes for a police helicopter if the air service is nationalised, according to the chairman of the Sussex Police Federation.
The National Police Air Service is due to be rolled out next year and the number of helicopters will be reduced.
The service is meant to provide 24 hour cover with a 20 minute response time.
But Bob Brown said it may take up to 30 minutes for people to be reached in parts of East Sussex.
Currently there are 33 aircraft at 30 locations around the country.
The National Police Air Service will have 23 aircraft at 20 bases. This will save £15m from the current total spend of £66m on police helicopters.
'Borderless service'
Mr Brown, whose organisation represents rank and file police officers, said people in Sussex who are currently serviced by a helicopter based in Shoreham will instead be reached by one based in Dunsfold, in Surrey.
"At the moment the whole of Sussex gets a response within 20 minutes and a lot of areas are less than that," he said.
"But in East Sussex 300,000 residents are going to be outside of that area and it will be more like 30 minutes to get there.
"This includes Beachy Head, which is an area that attracts a lot of attention, unfortunately, during the year."
He said the helicopter was extremely important to trace missing people in rural areas as well as catching criminals.
A spokesman for the Association of Chief Police Officers said: "The National Police Air Service is not merely a cost saving exercise.
"While the current service is capable of doing its day job, artificial boundaries have meant that helicopters are restricted to operating within their own force area or consortia.
"A truly national, borderless service will ensure effective coverage of urban and rural areas."