Fire training exercise in Worthing hotel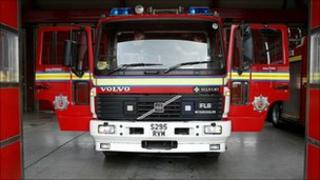 A West Sussex hotel has been filled with smoke as part of a major firefighting training operation.
A blaze at the Beach Hotel on Marine Parade in Worthing was simulated as part of the exercise for West and East Sussex Fire and Rescue Service.
Smoke machines were placed in the 79-bedroom hotel, which closed in August, to create zero visibility.
Crews began the search for 40 live "casualties", played by St John's Ambulance volunteers.
The operation started at 19:10 BST with a 999 call to West Sussex Fire and Rescue Service reporting a fire on one of the upper floors.
'Test of skills'
More than 60 firefighters and 10 fire engines were called to the scene, together with officers from Sussex Police and South East Coast Ambulance Service.
Adrian Carter from Worthing Fire Station said: "This type of exercise is invaluable training for our crews and will give all the agencies involved a robust test of their skills and resources in dealing with a major fire and rescue operation."
A one way system was put into operation outside the hotel, and the exercise was expected to last about two hours.