Lewes emergency flooding defences test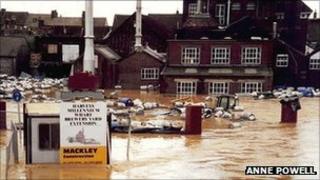 The flood defences of an East Sussex town are to be tested by the Environment Agency.
The exercise in Lewes is due to take place on Thursday between 21:00 and 23:30 BST.
It will involve the deployment of the removable flood defence barriers at the Argos car park and the closure of floodgates at the rowing club.
In 2000 hundreds of homes in Lewes were evacuated after the Ouse burst its banks.
Since then, flood defence improvements have been carried out in parts of the town, but it remains a major flood-risk area.
Phil Prydderch of the Environment Agency said: "Training exercises such as this are vital to ensure we can operate our defences as planned in advance of potential flooding.
"The experience that our teams will gain from this night-time training will build on their existing expertise and will enable us to respond in Lewes or elsewhere."
The agency said that flood protection for more than 500 properties in the Cliffe and Malling areas of Lewes had been improved since the floods of October 2000.